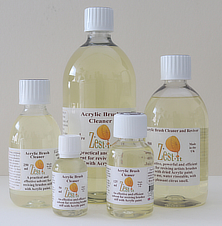 Zest-it® Acrylic Brush Cleaner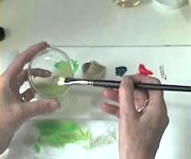 Zest-it Acrylic Brush Cleaner Clip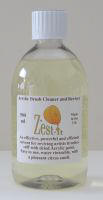 Brown text for Acrylic label.


Product Safety Information for
Zest-it Acrylic Brush Cleaner
PDF
The Acrylic Brush Cleaner is a much safer solvent for use in the studio, it is easy to use and has a slight orange/citrus smell.
It is water soluble, non-flammable, non-toxic and contains no Aromatics or CFC's, has low VOC's and is kinder to the environment. It can be diluted with water if you find it too powerful or just use a small amount.

It is re-usable, which makes it economical and a little goes a long way. The citrus oil element helps to stop the hair/bristles from becoming brittle and dry, so your brushes last longer.

It will remove old dried Acrylic paint from brushes that would normally only be good for throwing in the bin. Brushes 'crusted' with dried Acrylic from constant use can now be brought back to supple usefulness!

To watch the Acrylic Brush Cleaner in action please watch the video on this site.
The easiest way to use the Acrylic Brush Cleaner is to decant a small amount of the liquid into a separate container. Only have it deep enough to cover the hair/filaments of the brush, swirl the brush head in the liquid gently, wipe onto kitchen towel.

Repeat the swirling in the liquid, then wipe the brush head between folded kitchen towel to remove softened paint.
Repeat, as the dried paint softens then the brush can be pressed against the side of the container to help release the product.
Repeat until all the Acrylic paint has been removed.

Different acrylic paint products take different lengths of time for removal, if you wish to 'soak' the brush in the fluid, then about 5 minute would be a good starting point.
When you have finished wash the brush or brushes and your hands with soap and water.
Allow the brushes to air dry.
Label and store the container of used fluid for future use because the Zest-it Acrylic Brush Cleaner cab be re-used.

The product will also remove Acrylic based products from hard surfaces (wipe the handle of your brush!) and from paper and canvas.
If used in this way, wipe the cleaned surface with a water damp cloth.

Wear Nitrile gloves if skin is sensitive and eye protection if splashes are likely.

Sizes; 50 ml; 125 ml; 250; 500ml and 1 Litre.
Copyright© Jacqui Blackman 2013
If you wish to Subscribe please visit our Zest-it Channel
Reviews: A few reviews from around the net.
5.0 out of 5 stars
It is amazing stuff it cleans airbrushes of old paint too
Reviewed in the United Kingdom on 26 October 2019

It's liquid and cleans brushes. This stuff is amazing it cleans out old acrylic paint out of airbrushes too.
Bought it ages ago and never really looked at it again but when my airbrush got clogged up I tried this as a last resort and it was the only thing that worked, now my airbrush is useful again.

I've never tried it on enamel because it is not meant for anything but acrylics.

Yes, it works for Enamels, perhaps just a little more patience - Zest-it
5.0 out of 5 stars
Fantastic product.

This is the best product I have found for cleaning brushes and painting boards which have been used with acrylic paint. Acrylic dries and becomes quite hard. This solution will lift the paint off after some soaking and depending how much paint there is. May also require some scrubbing if stuck to painting boards but it is a great product.

The longer the product is allowed to dwell on the dried paint, the easier it will be to remove - Zest-it
5 out of 5 stars
EXCELLENT
Reviewed in the United Kingdom on 31 May 2019

Definitely recommend this product, works well and smells great!
Thank you - Zest-it
5.0 out of 5 stars
Pleasant smelling brush cleaner
Reviewed UK 4 August 2018

Exactly what was ordered. No bad smells at good price.
Thank you - Zest-it