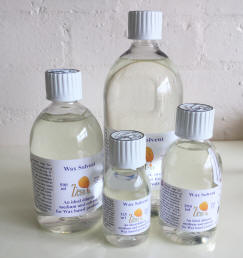 Zest-it® Wax Solvent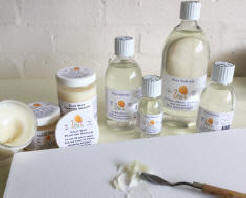 Use as diluent and solvent for Cold Wax and oil/wax mixtures.
.




Product Safety Information for Zest-it Cold Wax Solvent PDF
The Zest-it Cold Wax Solvent is a non-toxic, non flammable fluid with a slight yellow colour. It has a mild orange smell from the Citrus Oil, it has low VOC's, which means little is lost to the atmosphere and your workspace. It does not mix with water.

It does not contain any Aromatics or CFC's, it is classed as biodegradable and is therefore kinder to the environment.
It can travel by road, sea and air, which makes it an excellent accompaniment if you are going on a painting holiday (depending on the airline). It is re-usable, which makes it economical and a little goes a long way.
It is ideal for thinning Wax and Oil paint mixtures to change the handling qualities and for making glazes and drizzles. Use to clean brushes, painting knives, rollers, wedges, shapers and even surface mistakes from the canvas.
Have 'safety sense' when using any solvent. Use in a ventilated area, away from sparks and flames, do not heat the product.
Keep away from children, do not eat, drink or smoke when using the product (no water bottles in the same area!).

Dispose of the any 'wax/paint sludge' by putting onto damp sand or soil in a container.
Do not throw the liquid or brush washings down the sink.

Sizes available - 125 ml; 250 ml; 500 ml; 1 Litre.
Please visit our Wax focused site at www.artywax.co.uk for more information on using Cold Wax Painting Medium

Copyright© Jacqui Blackman 2017