The original page has been archived.
View the original 'about Zest-it' on the archived page and for a little of the history of Zest-it, see Zest-it history.
What is Zest-it Oil Paint Dilutant and Brush Cleaner? The simple answer is, it's a more environmentally friendly, non-flammable, pleasant to use, biodegradable alternative to 'turps' and white spirit, made using the zest of citrus fruit for cleaning brushes and thinning paint, a much safer solvent for studio use.
But the rules change and we are now not allowed to use words like "environmentally friendly"; "non-flammable"; "biodegradable"; "safer solvent"; so, although the words are not allowed on the label, the product has not changed nor have its properties, this is the reason the original page has been archived and replaced by this one.
This can be said about Zest-it Oil Paint Dilutant and Brush Cleaner (because these words are taken from the Safety Data Sheet) it is a solvent primarily for use by oil painters. It is made from an Aliphatic Hydrocarbon and pure food grade Citrus Oil. It has a neutral pH value and contains no CFC's or Aromatics and has low VOC's. It is a clear, colourless liquid which has a pleasant 'orangey citrus' smell, is inherently biodegradable and evaporates without leaving any residue. Independent laboratory tests show it has no detrimental effect to the oil paint or pigment quality, proven stability and a long active life.
The first answer is far more informative for the user of the product - but they're the rules!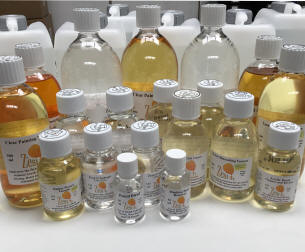 Zest-it as a Brush Cleaner is kind to your brushes. 'Turps' and white spirit are know to 'leech out' the natural oils from bristle and hair brushes, causing them to go brittle and dry over time, because Zest-it contains citrus oils it helps maintain the integrity of your brush hair or bristle giving your brushes a much longer life.
For Zest-it brush cleaning instructions use this link.

Zest-it used as a Paint Dilutant (diluent) go to oil painting techniques

Zest-it mixed with linseed oil used as a painting medium
Zest-it dissolves Gum Damar crystals to make Damar Varnish.

Because Zest-it is more than "just a brush cleaner", you can thin oil paint to an 'ink consistency' for use with dip pen nibs, use with oil paint sticks, oil pastels and oil based ink, also with wax and wax based products and also to clean painting knives, palettes, remove wet oil paint from a canvas, your clothes (test the area first).
Pencil Blend for blending of coloured pencils, tested pencils can be fond on this detailed page. You will also find links here to other pages using Pencil and Parchment Blend with different types of pencils.

The testimonials page where people have been kind enough to share their thoughts and experience of using Zest-it.

A copy of the Zest-it Oil Paint Dilutant and Brush Cleaner MSDS explained.

Since the original information was put up on the web in 1999, we as a company and the Zest-it range of products have naturally developed by design and request. Still keeping to our "Safe Solutions for Artists" concept, you can find all the different products with links to specific pages for more details.
You will also find painting tuition and information, also Tole painting, there are thousands of link so the Tole and painting stay, making the site refreshing, unique and different.

Zest-it ® and the Logo are a Registered Trademark of J. & T. Blackman Ltd

For a list of UK Retail Stockist by area or Retailers by County and where you can purchase on-line.
For Zest-it Retail and Wholesale Stockist outside the UK please use the link.
Contact Email: support at zest-it dot com or Tel: 01162341001