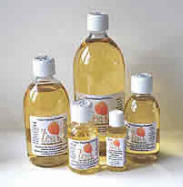 Zest-it® Clear Painting Medium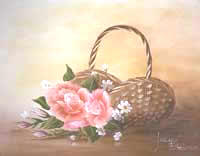 Wet-on-wet painting with Clear Painting Medium used on the background.


Used for the petals and leaves in this Tole painted image.
.

The Zest-it Clear Painting Medium is designed to facilitate the flow of oil paint, level out the brush strokes and for glazing. The Clear Painting Medium can be of assistance to both the Traditional oil painter and the Wet-on-wet artist. It is a mix of Zest-it and Linseed Stand Oil without added Varnish, it also makes the paint it is used with dry faster.

For the Traditional oil painter. The Zest-it Clear Painting Medium is very useful for applying glazes to the painting. It dries clear and quite quickly, it will also lift any dull parts of a painting giving an overall balance to the surface finish. It does not contain any varnish, this keeps the dried glaze as a more flexible film and in keeping with the rest of the paintings structure. The last glaze can of course be worked into before it dries to completion.
Oiling out. Often when a painting has been drying for sometime dull areas show up. Before starting work on the painting again the artist often wants the 'wet look' back, this is an aid to judging the colour with more accuracy. Using the Clear Painting medium for this gives back the 'wet look', can be painted into and keeps the integrity of the painting. Very useful and a little goes a long way.

For the Wet-on-Wet painter. The Zest-it Clear Painting Medium gives an ideal base for the start of a canvas painting, allowing the artists to mix and blend colours on the canvas and can be used throughout the painting. The Clear Painting Medium can also be coloured before starting a wet-on-wet painting, just add a small amount of oil paint to an amount of the medium and mix together before using to wet the background - only a very thin coat is needed. The medium will stay workable for about twelve hours.

For the Tole or One-stroke painter. The Zest-it Clear Painting Medium is excellent for blending colours together when double loading a brush for one-stroke painting, which of course is a wet-on-wet painting method when using oils. When double loading a brush, mix a small amount of ZCPM with each pile of paint, then load into each side of the brush and blend on the palette. The painting medium also makes blending the applied colour easy.

The Clear Painting Medium can also be used to thin oil paint to an ink consistency for use with a dip pen nib, the oil written words will have a gloss and slightly raised profile.

Copyright© Jacqui Blackman 2010







Yes

Yes

Yes