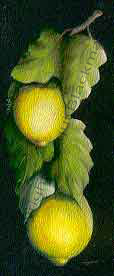 Tole Painted Lemons.
These Lemons are painted using the following paint colours, Lemon Yellow, Cadmium Yellow, Cadmium Orange, Burnt Sienna, Ultramarine Blue, Titanium White and Ivory Black.

The brushes used were 1/2" One-stroke brush, a Rigger and a mop brush.

Zest-it Clear Painting Medium is used to help with blending of the oil paint and smooth finish. Once the colours are properly applied to the Lemons, then blending is the important stage to achieve the roundness of the fruit.
Smooth blend with the flat brush or if you have a problem or prefer a smoother finish then I find a water colour Mop brushes/long soft haired blender brushes are valuable tools to gain the desired effect.

A light touch is vital!

Copyright © Jacqui Blackman 1994.