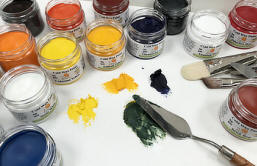 Zest-it Cold Wax Paint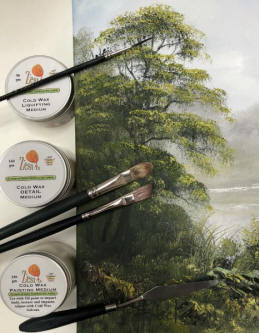 A Cold Wax Painting and the New Medium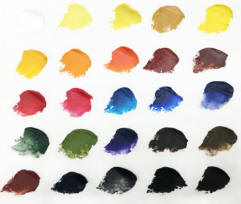 Cold Wax Paint colour swatches
The development of the Cold Wax Paint had started almost ten years ago, more for my personal use in oil painting than as a retail product.
Much experimentation, research, trials and testing has been carried out to achieve the final, elegant, new Cold Wax Paint product.
Our paints are made by hand using techniques and methods we have developed to produce our unique Cold Wax Paint.

The paint consists of a similar formula to our very popular Cold Wax Painting Medium with the addition of high quality, pure, single pigment colours, many being natural pigments, chosen for their attributes and suitability for use with wax.

All of the Cold Wax Paints are archival, have excellent lightfastn ess and retain the inherent character of the wax.

The translucent quality of the wax is also maintained because there are no fillers or extenders to compromise the quality.
All the paint colours are intermixable and like the rest of our Zest-it products they are non-toxic and non-flammable.
To facilitate the use of our Zest-it Cold Wax Paint with brushes and painting knives for applying in a more traditional manner, we developed two new wax mediums.
These can give far more versatility to the paint and benefit the artist who wishes to obtain a wider range of brush marks and a unique style. It also negates the use any type of oil paint and reduces the need for solvents.
The New Zest-it Cold Wax Detail Medium when mixed with the Cold Wax Paint makes the paint easier to apply using typical oil painting brushes, keeping the characteristics of the wax, allowing for more versatility and painterly brush strokes.
The New Zest-it Cold Wax Liquifying Medium when mixed with the Cold Wax Paint makes the paint thin enough for line-work, but retains body. This medium thins the paint enough for use with a rigger or liner brush.

The existing Zest-it Cold Wax Painting Medium, can be used to, in effect, 'thicken' the paint for more pronounced knife work, thereby giving texture and a tactile finish to the surface.

These mediums therefore widen and enhance the possibilities for the Artist using Cold Wax Paint.
Historically wax has been painted on many surface both flexible and rigid, paper, cardboard, stone, wood, canvas, plaster, wood many others, providing there is some absorbency and tooth to the surface the wax can live a good life.

This is taken from an article I wrote for the A&I, Leisure Painter and The Artists magazine 2021

Copyright© Jacqui Blackman 2020